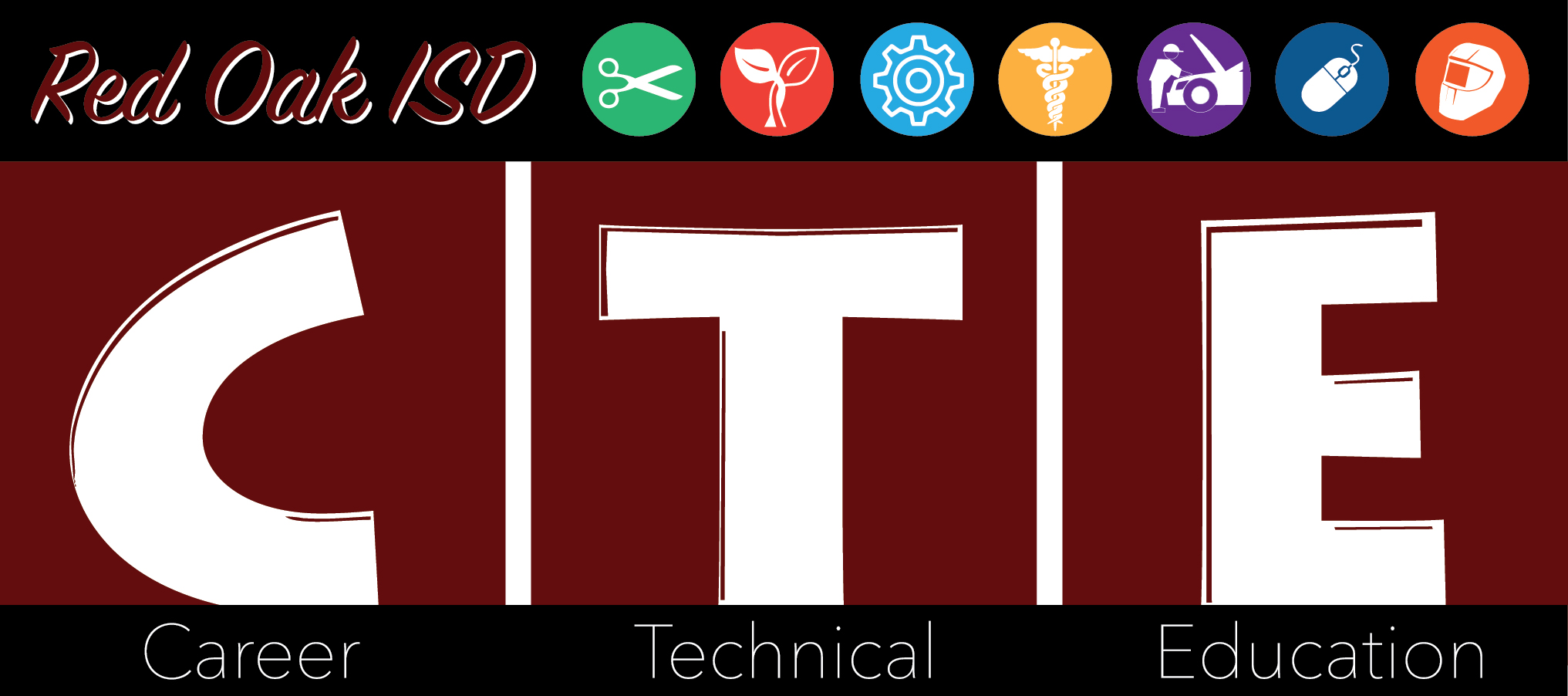 We mean business
CTE training places students in great jobs
In Red Oak ISD, we mean business when it comes to preparing students for the world beyond high school graduation.
That's why we offer 84 Career Technology Education (CTE) courses ranging from computer maintenance to health services and welding. Students receive professional training and certifications that open doors to both the workforce and post-secondary study.
100% of ROHS students are required to take a career and technology course as part of their graduation plan. The courses offer valuable training to all students, ranging from those on the Advanced Placement track to those who struggle with academic studies.
Our CTE training is rigorous and strategically aligned with the needs of today's workforce. Red Oak ISD works closely with area employers to align the curriculum so that students graduate with the skills and certifications that best prepare them for the workforce.
For example, a student who works as a network and computer system administrator making a starting salary of $60,000 can choose to move up in that profession or finance a college education using that salary to pay for tuition and other bills. Either way, our high-level CTE training is one more way we live up to our motto:
"Our students' success is our success."
CTE Pathways
Red Oak ISD offers courses in the following Career and Technical pathways:
Agriculture, Food & Natural Resources

Architecture and Construction

Arts, A/V Technology & Communications

Business Management & Administration

Finance

Health Science

Human Services

Information Technology

Law, Public Safety, Corrections & Security

Marketing

Science, Technology, Engineering & Mathematics

Transportation, Distribution & Logistics
For more information about the individual programs, visit the CTE Program Brochures.

Questions about CTE?
Please contact:
Lisa Menton
CTE Director
972-617-3535 ext. 6444
Program Highlights
---
RED OAK INDEPENDENT SCHOOL DISTRICT
PUBLIC NOTIFICATION OF NONDISCRIMINATION IN CAREER AND TECHNICAL EDUCATON PROGRAMS
Red Oak ISD offers Career and Technical Education programs in Agriculture, Food and Natural Resources, Architecture and Construction, Arts, A/V Technology and Communications, Business Management and Administration, Family Consumer Science, Finance, Health Science, Human Services, Information Technology, Law and Public Safety, Marketing, Science, Technology, Engineering and Math, and Transportation, Distribution and Logistics. Admission to these programs is based on interest in subject, required prerequisites, and course availability.
It is the policy of Red Oak ISD not to discriminate on the basis of race, color, national origin, sex, handicap, or age in its Career Technical Programs and employment practices as required by Title VI of the Civil Rights Act of 1964, as amended; Title IX of the Education Amendments of 1972: the Age Discrimination Act of 1975, as amended; and Section 504 of the Rehabilitation Act of 1973, as amended.
Red Oak ISD will take steps to assure the lack of English language skills will not be a barrier to admission and participation in all Career Technical educational programs.
For information about your rights or grievance procedures, contact the Title IX Coordinator, Kevin Freels, and/or the Section 504 Coordinator, Nancy Toney, at Red Oak Independent School District, 109 W. Red Oak Road, PO Box 9000, Red Oak, TX 75154, PH: (972) 617-2941, FAX: (972) 617-4333.
El Distrito Escolar Independiente de Red Oak (Red Oak ISD)
NOTIFICACIÓN PÚBLICA DE LA NO DISCRIMINACIÓN EN LOS PROGRAMAS DE CARRERA Y EDUCACIÓN TÉCNICA
Red Oak ISD ofrece programas de Educación Profesional y Técnica en Agricultura, Alimentación y Recursos Naturales, Arquitectura y Construcción, Artes, Tecnología y Comunicación Audiovisual, Negocios y Administración de Empresas, Ciencia del Consumidor Familiar, Finanzas, Ciencias de la Salud, Servicios Humanos, Derecho y Seguridad Pública, Marketing o el mercadeo, Ciencia, Tecnología, Ingeniería y Matemáticas, Transporte, Distribución y Logística. La admisión a estos programas se basa en el interés en el tema, los requisitos previos requeridos y la disponibilidad del curso.
Es política de Red Oak ISD no discriminar por motivos de raza, color, origen nacional, sexo, discapacidad o edad en sus Programas Técnicos de Carrera y prácticas de empleo como lo requiere el Título VI de la Ley de Derechos Civiles de 1964, como Modificado; Título IX de las Enmiendas a la Educación de 1972: la Ley de Discriminación por Edad de 1975, según enmendada; Y la Sección 504 de la Ley de Rehabilitación de 1973, según enmendada.
Red Oak ISD tomará medidas para asegurar que la carencia de destrezas en el idioma Inglés no será una barrera para la admisión y la participación en todos los programas educativos de Carrera Técnica.
Para obtener información sobre sus derechos o procedimientos de quejas, póngase en contacto con el Coordinador del Título IX, Kevin Freels, y / o la Coordinadora de la Sección 504, Nancy Toney, en el Distrito Escolar Independiente de Red Oak, 109 W. Red Oak Road, TX 75154, PH: (972) 617 - 2941, FAX: (972) 617 - 4333.