Graduation 2018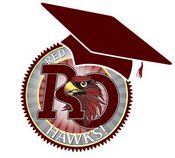 Red Oak High School
Baccalaureate
Project Graduation 2018 sponsors baccalaureate.
Sunday, May 20, 2018
2:30 PM
Avenue Church located at 210 YMCA Dr. in Waxahachie
Seniors need to arrive at 2:00 PM wearing cap and gown. Doors will open at 2:00 PM; everyone will need to be seated by 2:30 PM..
Commencement:
Friday, June 1, 2018
7:30 PM
College Park Center
University of Texas at Arlington
600 S. Center Street
Arlington, TX 76017-0192
*Students must arrive by 6:30 PM and report to holding area for final instructions.
Commencement Practice:
Thursday, May 31, 2018
1:00 PM
ROHS Cafeteria
Mandatory practice for Seniors participating in the commencement exercise.

Cap & Gown:

The cap and gown for graduation has changed slightly. Seniors that planned to use an older siblings' cap or gown will need to obtain the updated ones. Seniors can exchange their gowns for new ones (free of charge) on May 16 during all three lunches. Seniors will need to purchase their cap and tassel for $20.00 from Josten's on May 16. Starting May 4, cords may be purchased for $6.00 in the Main Office before school and during all three lunches. Cords will be passed out after Graduation Rehearsal on May 31.

Parking & Driving Directions:
Parking garages and certain lots charge a parking fee. Be prepared to pay up to $15.00 per vehicle. There may be some free parking, but be prepared just in case. This came as a surprise to some guests last year and held up the line of traffic. Guests are advised to plan for possible traffic delays in the Arlington area. Friday night is very busy in this area, so allow plenty of time. Specific information about the UTA College Park Center may be found at www.utacollegepark.com.
View the College Park Center Parking Map
View the Driving Directions to UTA College Park Center
Tickets & Seating:
All seniors will be given 12 tickets. Student ticket distribution will be on Thrusday, May 17, 2018, during lunches. Only students with their ID's will be allowed to pick up their tickets. The tickets will be the responsibility of the student and tickets cannot be replaced. Students may share those tickets with other students if they are not going to use all 12.
All spectators entering the College Park Center will be required to be in possession of a ticket to enter the facility. Seating will be on a "first come first serve" basis. Saving of seats is not allowed. Doors will open at 6:30 PM for seating in the center. Handicapped seating is available on the Main Concourse level; one attendant will be allowed with each handicapped guest.
Per UTA policy, tickets will not be available at the College Park Center on the day of the ceremony.

Live Web Streaming Available:

If you have friends or family who cannot travel to UTA, they may watch the entire ceremony live on the Red Oak ISD website or Red Oak High School website from the comfort of their homes.

Prohibited Items:
The following items (included but not limited to) are prohibited in the College Park Center at UTA: noisemakers of any type, helium balloons, large signs, strollers, food beverages, coolers, weapons, laser pointers, flags, banners with sticks, tripods, glitter, confetti, streamers, mace, or pepper spray, selfie sticks, balls, illegal substances, umbrellas, backpacks, luggage of any kind and large bags will not be permitted and may be confiscated by College Park Center security. Event security may check all bags prior to entry. Only graduates and school officials will be permitted on the floor of the College Park Center.